Leaders in Higher Education Market Research and Intelligence
Increase enrollments. Create in-demand programs. Satisfy students. If that sounds like your to-do list, there's one tool that can make it all easier—data. Don't guess what students want, know it. With primary and secondary research from industry experts that understand the volatile marketplace, you can serve your students' needs while minimizing program costs. Get the insight you need to find, enroll, support, and satisfy students in the rapidly changing world of higher education.
Easily Identify What Students Want and Need
Quickly Launch New Programs that Add Value
Confidently Make Decisions Based on the Experience of Real Students
Capably Act Based on Insights and Recommendations from Primary Data
LATEST REPORT
Survey of the Higher Education Landscape 2023
Our latest Survey of the Higher Education Landscape Report provides a comprehensive and nuanced perspective on the future of higher education, rooted in empirical data, expert analysis, and a profound recognition of the real-world challenges faced by both students and institutions.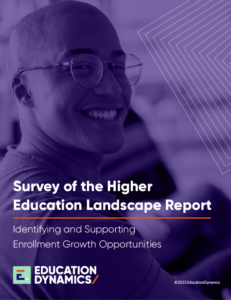 Data-guided marketing experts for higher education
We focus our primary and secondary research on the need, motivations, activity and intentions of current, recent and prospective students. The result? Actionable insights that tell you what students are likely to do, not what they would like to do. We start with primary research first to capture the freshest and most relevant data for your decision making. Base your programs and offerings on the actual behavior of real students to increase inquiries and enrollments.
Market Analysis
What do adult, post-traditional and graduate students demand of the institutions in which they enroll? We'll conduct and analyze primary research that uncovers the demands and preferences of your prospective students. Gain the insights and data that helps schools increase enrollments by identifying effective programs, schedules, services, marketing and messaging.
Program Feasibility Studies
Our expert analysts conduct market research based on publicly available data and proprietary methods to measure feasibility and demand for launching new programs and growing existing programs. We'll uncover and analyze competing programs in the market and identify opportunities to capitalize on unmet demand. Get the roadmap you need, backed by data, to shape, position, and market in-demand programs.
Lost Student Studies
Unlock the riddle that confounds institutions and impairs growth. Our experts will discover what stopped your prospective students from enrolling and caused existing students to leave before completing the program. Fine-tune outreach, marketing, and cultivation techniques to increase yield and improve retention by better understanding what attracted people to an institution, why they did not enroll, or why they decided to "stop-out/drop-out".
Institutional Audits
Gain insights and develop an action plan for structuring institutional and unit operations based on your market and organizational strengths. Our consultants survey and interview campus stakeholders, analyze your market and measure your current state and position in the market. Let us help you understand your current position, strengths, and opportunities, and develop a custom solution that is actionable and appropriate for your institution.
EDDY is part of your team
Tailored Optimization
Outmuscle the competition while minimizing costs with strategies that are anything but ordinary. We use data and expert insight to identify second-tier or lesser-known platforms where your ideal student can be found.
Unparalleled Visibility. Honest Communication.
We execute your marketing and we believe in providing you with visibility into everything we do on your behalf. From our engaging and collaborative launch process to 24/7 access to data via online portals, we communicate and collaborate as your partner in success. Absolute transparency and honest communication – vital cornerstones to trusting and successful partnerships.