Online College Students 2021
There is no doubt that the landscape of higher education has been permanently altered, and the past year has proven to be a challenging time for students and educators alike. In EducationDynamics' latest report, Online College Students 2021, the data uncover further evidence that online learning is a largely successful platform that is only just beginning to reach its potential. While online education continues to evolve and grow, the impact it has on students continues to accelerate.
In reaction to COVID-19, remote education delivery became the primary delivery method used by many colleges and universities across the country. Those colleges and universities with significant existing infrastructure and understanding to support fully online programs were able to quickly pivot additional programs while more traditional schools and programs were forced to learn and adapt on the fly.
The data presented in this report illuminate the demands and preferences of the newest cohort of online students; those who engaged in online study in the past year during a time of rapid change in the education landscape. These are students who engaged in online study on their own volition (or believe they did) or were moved into an online program due to COVID-19 and indicated they would be likely to enroll in online study in the future.
Here are a few of the insightful findings in the report. Download the report for additional insights and online student trends.
What impact did COVID-19 have on higher education plans for students?
Interestingly, 69% of students surveyed in the Online College Students Report stated that COVID-19 did not impact their plans for higher education. Many respondents indicated they chose to enroll in an online program that they have either completed or in which they are currently enrolled. Only 18 percent of undergraduate online students and seven percent of graduate online students did not choose to enroll in an online program but were enrolled in one because their institution turned to virtual or online education.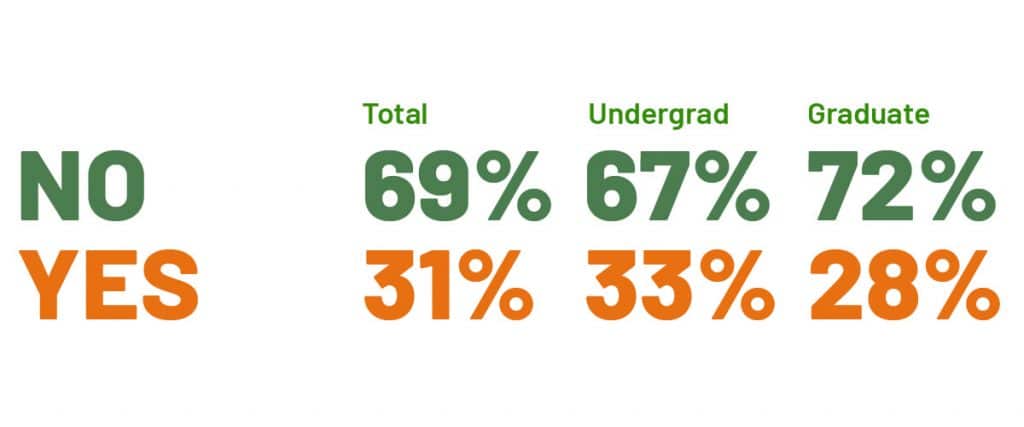 How accessible are online courses for students?
The online modality can have some barriers. Ten percent of survey respondents indicated that their primary internet access location was out of the home. However, more than half of those respondents believe their studies would be easier if they could be conducted at home. Schools can grow enrollments and improve persistence by helping break down these barriers.
What will be students' preferred study format moving forward?
According to the data, 57 percent of online students that were surveyed will prefer to enroll in hybrid study, conducted both in the classroom and online. About one-third of these students will prefer to study fully online.
There is little doubt that online learning will increase steadily in the years ahead. The pace of adoption and acceptance accelerated in 2020, and there is clear evidence that most students exposed to the modality recognize the value of the platform. Institutions can be ready to meet this demand for online study by understanding and addressing what really matters to online students. Download a copy of the report today to learn more about how you can best support current and prospective online students at your institution.